Does the Expanded HHVBP Model Effect All Home Health Consumers?
The expanded HHVBP Model only protects Medicare beneficiaries receiving care through HHAs
March 2, 2023 – In our last blog on the Expanded Home Health Value-Based Payment Model, we looked at what that means for the home health industry and home health agencies (HHAs). But what is most important to consider is how is this going to impact the consumers?
The most important aspect of the new VBP model, is the improved health outcomes it is designed to generate. However, we must look at who the Expanded HHVBP model covers, and how the model impacts and presents challenges for the home health industry.
Throughout this blog, we are going to take an in-depth look at who the Expanded HHVBP model serves and what challenges the home health industry is facing that could slow the transition. 
Are All Home Health Consumers Under the HHVBP Model?
While all home health agencies must be switched over to the HHVBP model in 2023, this only accounts for Medicare patients. The Home Health VBP model is designed to give Medicare-certified home health agencies the incentive and only caters to Medicare patients.  
It is also important to note that Medicare only covers the first 100 days of service in a 12-month period for those without supplemental or secondary insurance, or that have not purchased a Medicare Advantage plan. With the Expanded Home Health VBP model and the shifting focus on keeping people at home through home health and home care initiatives, we may continue to see a shift towards consumers purchasing Medicare Advantage plans to ensure coverage.
However, those that do not purchase Medicare Advantage plans or secondary insurance may struggle when their first 100 days of service run out each year. With 365 days in a year, that leaves a big gap that will either cause Medicare beneficiaries to rack up outrageous medical bills, or fail to receive the services they need to remain in the home. With CMS touting its goal of health equity, which is defined as attainment of the highest level of health for all people, it is important to consider how those without Medicare Advantage plans or secondary insurance will fare under the new Expanded HHVBP model.  
Is The Home Health Industry Facing Any Imminent Challenges?
Despite the bright outlook that the Home Health VBP model provides, the industry still faces some challenges. The first is one that much of the healthcare industry is battling with—staffing and retention. 
While staffing has always been a challenge, the pandemic put an even bigger strain on recruitment and retention. Some nurses have left health care altogether due to burnout. The numbers aren't great and are only expected to become worse. According to a 2021 report conducted, by 2025, the U.S. is estimated to have a shortage of approximately 450,000 home health aides an almost 100,000 nursing assistants. This does not bode well for consumers, so it is important that some steadiness and investment occurs in the home health industry. 
This is particularly important, because as we mentioned in our last blog on the Expanded Home Health VBP model, patient satisfaction, reporting through HHCAHPS surveys are included in the quality measures. Staffing and retention issues can lead to dissatisfied patients, which can impact overall scores and payments made to HHAs. That is why it is important for agencies to invest in recruitment, training, and retention efforts. 
 Another challenge the home health industry is facing is a decline in the number of home health agencies. The ongoing staffing issues have contributed to this but are not the only factor in play. Home health rate cuts are also a factor.
In the home health final payment rule, providers saw almost an 8% permanent adjustment to the 30-day payment rule. That cut was worse than was initially proposed and providers argue that it will have a negative impact on the availability of care for the most chronically ill Medicare beneficiaries.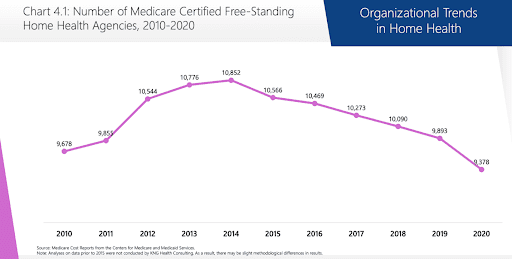 This continued decline in home health agencies is important to keep an eye on because it means there could be issues with access to home health services for consumers. With less agencies providing services, consumers, especially those in rural areas, could be without access to care. 
In 2021, the home health referral decline rate was 58%. Last year, it increased to 67%. These numbers are staggering and show how dire the situation is. The result of a decline in HHAs and an increase in the home health referral decline rate, means that some consumers will not receive the services they need and may lose the ability to remain living independently in the comfort of their home.  
Looking at these trends, we hope that with the Expanded HHVBP model steadying the industry, there will be a renewed influx of investment in the home health industry. Hopefully, the investment will lead to improve access to care and an increase in the quality of care that consumers receive as well.
Looking at the results of the original Home Health VBP model, it is evident that progress can be made through the model. While the Expanded HHVBP model is a step in the right direction to improve overall health outcomes, keep consumers living independently at home, and reduce overall costs, it is important that we don't stop here. The new VBP model does not cover everyone requiring services, and the 100 day limit for those without Medicare Advantage plans or secondary insurance means that we may still see gaps in care that impact the health of consumers negatively. As advocates first, the XtraGlobex team will keep a close eye on the Expanded HHVBP model going forward to see how it impacts the overall health outcome of Medicare beneficiaries.
Get even more insights on Linkedin & Twitter
Subscribe here to receive the blogs straight to your inbox
Fady Sahhar brings over 30 years of senior management experience working with major multinational companies including Sara Lee, Mobil Oil, Tenneco Packaging, Pactiv, Progressive Insurance, Transitions Optical, PPG Industries and Essilor (France).
His corporate responsibilities included new product development, strategic planning, marketing management, and global sales. He has developed a number of global communications networks, launched products in over 45 countries, and managed a number of branded patented products.
Mandy Sahhar provides experience in digital marketing, event management, and business development. Her background has allowed her to get in on the ground floor of marketing efforts including website design, content marketing, and trade show planning. Through her modern approach, she focuses on bringing businesses into the new digital age of marketing through unique approaches and focused content creation. With a passion for communications, she can bring a fresh perspective to an ever-changing industry. Mandy has an MBA with a marketing concentration from Canisius College.